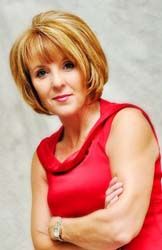 Marjorie Phillips Bean loves the people she works with at Spectrum Print Communications (SPC). "They are all very knowledgeable and know about the capabilities of the equipment and the services they can perform," says Marjorie, a print industry professional with 14 years in the industry. As a sales representative this makes her job easier, because she can talk to her customers with confidence knowing that SPC can fulfill its commitments.
Marjorie's primary responsibility at SPC is to acquire new accounts and grow existing ones. And her ability to grow things extends beyond her accounts at SPC. Marjorie has a "green thumb", gardening is a favorite past-time when she is not working in paper and ink. Marjorie is an east coast native and has travelled on I-95 numerous times. She has spent time in Orlando, Pennsylvania and Georgia. She has also made her way across the Atlantic to Brussels, Belgium, but found her way back to Orlando where her assets enhance the team at SPC.
The changing nature of the print industry appeals to Marjorie. "There are no typical days in printing and mailing," says Marjorie. "That's what makes this profession interesting. You remember the days that challenge you the most." She credits SPC's team with helping her meet those challenges which helps her meet and exceed the needs of her customers.